Located in the heart of the Anthracite Coal Region of Pennsylvania, Ashland Diesel Engines Inc. exemplifies the tradition of service excellence that the former company Cummins Diesel Engines of Ashland was known for since its conception in 1951. Since it's acquisition in 1991, A.D.E. Inc. not only meets, but far exceeds the expectations of the rigid demands in the Cummins Diesel Engines sales and service arena for automotive, industrial, construction, and mining.

Winning the prestigious Cummins Dealer Quest Award every year since its introduction in 1993, and named "The #1 Cummins Quest Dealership in the Nation" in 1994, has brought A.D.E. Inc. a national notoriety that has helped it become the largest Cummins Dealership in the Tri-State (PA, NY, & NJ) area.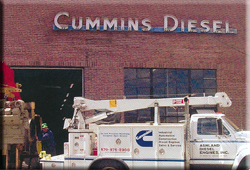 As a Nelson distributor, plus the addition of three new Mohawk vehicle lifts, and five lengthened truck bays, A.D.E. Inc. can now offer its' customers a wider range of services including transmission, differential, suspension, frame, and brake repairs.